Where to order and buy auto parts in Russia?
If you have been thinking about how to repair and tuning your car profitably then we advise you to buy auto parts in Russia! Our forwarding service en.aukciony.com has prepared a list of the most proven and reliable platforms and auto parts services. You can easily find the necessary spare parts for your car there.
Moreover, another indisputable advantage of ordering auto parts in Russia will be the possibility of buying both completely new and used goods. Do not worry about their quality! Each used item has passed serious integrity control and is fully operational. Our service will carefully deliver all your purchases in their original form to any part of the world. Save your money and time wisely and choose the trading platforms recommended by us!
Let's move on to the review of Russian online stores with auto parts
This store is extremely convenient for any user. Here you can search for the part you need by category, mark and year of your car, search by VIN is also available.
If you need separate spare parts be sure to check the serial numbers before ordering. Choose body parts with full confidence that they will fit your car perfectly! Moreover, on Euroauto you will also be able to purchase engine parts and other systems.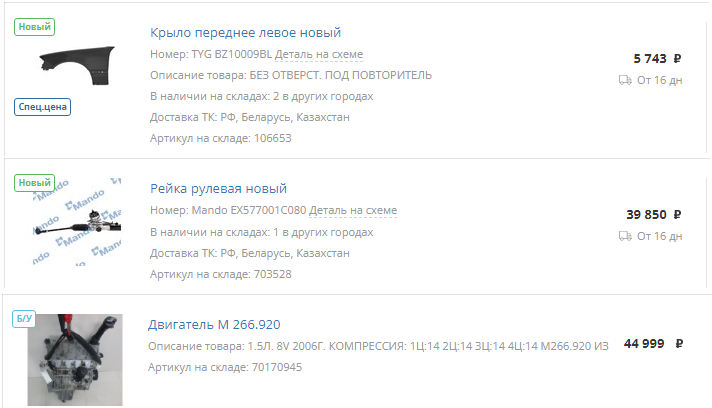 MotorLand specializes in the sale of used spare parts for various car brands. Unlike the previous store where you could choose contract and completely new parts here you will find used ones and can easily buy them in Russia. Do not treat used parts with prejudice! Before the publication of the product each item undergoes a special check and only after confirming the quality is published on the site.
Get new transmission systems for your cars in order to increase power and drive easily even on the steepest climbs.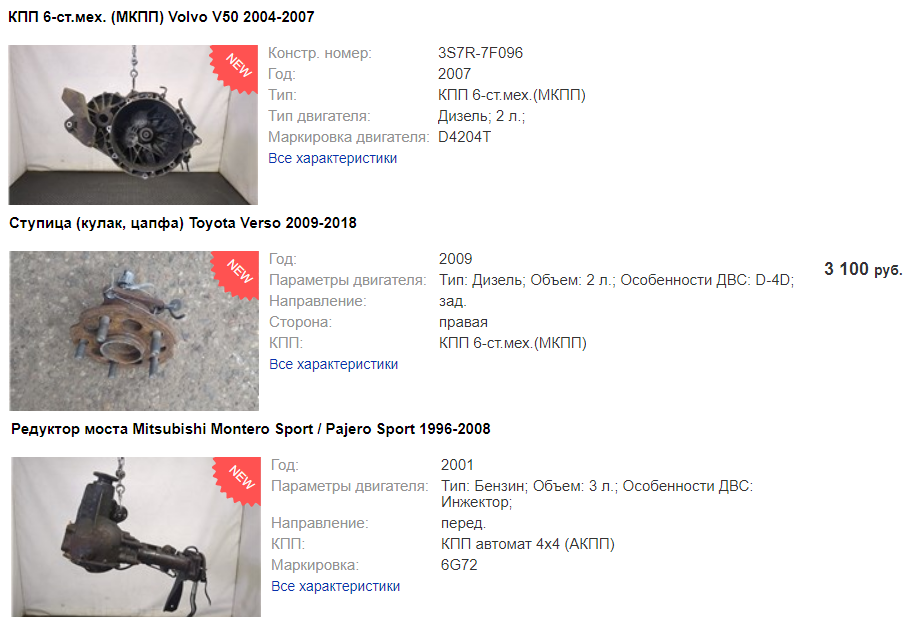 Any spare parts for cars are available for sale on this platform. New and used parts are collected here. In order to find the necessary product select your brand and model of car in the list and then the name of the system in which a new part is needed or if you are looking for a spare part from a specific manufacturer, select it in the "Manufacturers" section.

You can easily search with Ferio for used branded quality components. The web portal search system will find disassembly in Russia, implementing parts, systems and mechanisms removed from broken cars. Then you can choose everything you need to repair the car. After all, the virtual disassembly of Ferio offers a huge selection of used parts of foreign cars of all known models.
The peculiarity of this platform is in contact with live representatives of Russian showdowns. You leave a request with a description of your car and the spare parts you need next the service finds a point that sells this part and contacts it to clarify availability and cost. After that, you get a list of offers. You will be able to contact each of the sellers yourself without intermediaries. Our service Aukciony.com will help in the negotiation process and will buy the necessary spare parts for you!
The range of contract spare parts in the AvtorazborRf online store is really huge and "fresh" used spare parts are constantly appearing in it and even if today you have not found the right part for your car in the catalogue you can contact us and we will promptly find for you and add the desired spare part to the catalogue.
In addition, AvtorazborRF searches, buys and disassemble foreign cars for the sale of spare parts under the order – you can buy used spare parts of original quality, including  rare models.

The products found for you are presented in the form of such a list. From it, you can easily choose the necessary position and get acquainted with all the characteristics.
Drom is a Russian marketplace from private sellers. A detailed description of each product will allow you to buy auto parts in Russia without any difficulties. Just enter the part name and mark of your car in the search bar. From the offered positions select the one you need and proceed to placing an order.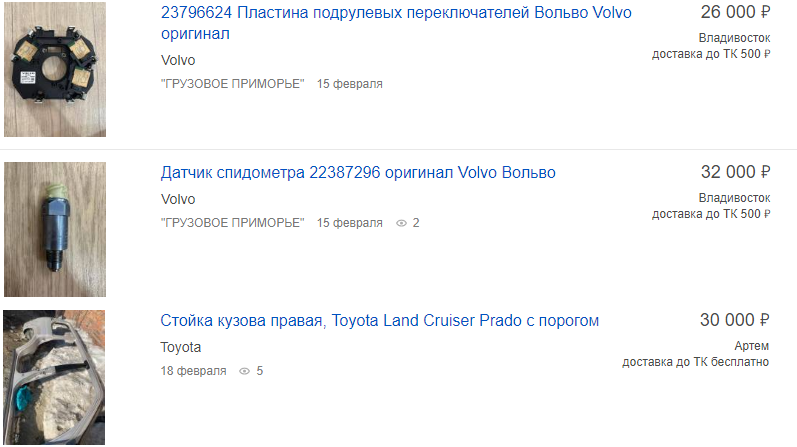 Continuing the list of Russian marketplaces we recommend you the Avito platform. Buying auto parts in Russia using this service is a profitable and convenient solution. All positions are presented here at affordable prices. Individuals and small companies accept payment using Russian card or through the Avito service. After the purchase our manager takes all the goods from the delivery point.
If you can't find a spare part in your country pay attention to the Russian market of new or used spare parts!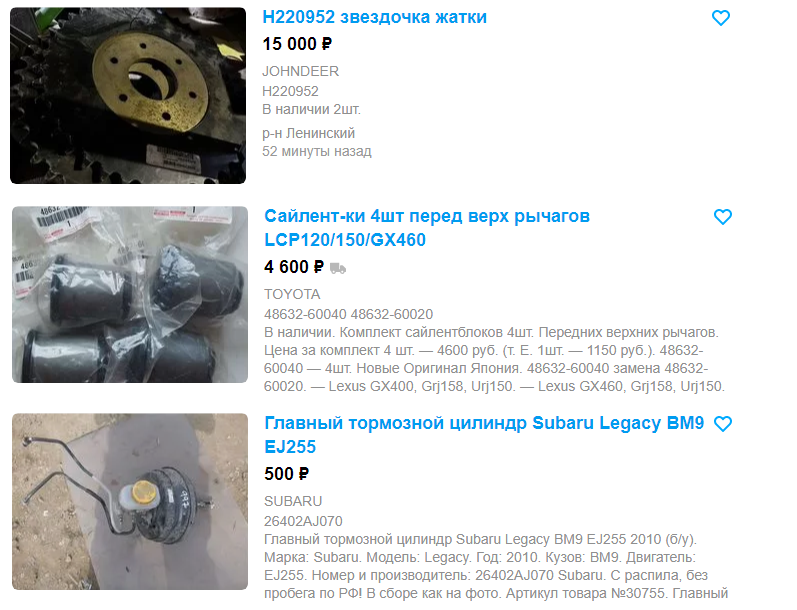 The FarPost service (small companies and individuals marketplace) closes the list of private offers on the platforms. The interface is very similar to the previous ones so it will not be difficult to sort out the search at all. Here you can buy whole car systems at once and install them in your car.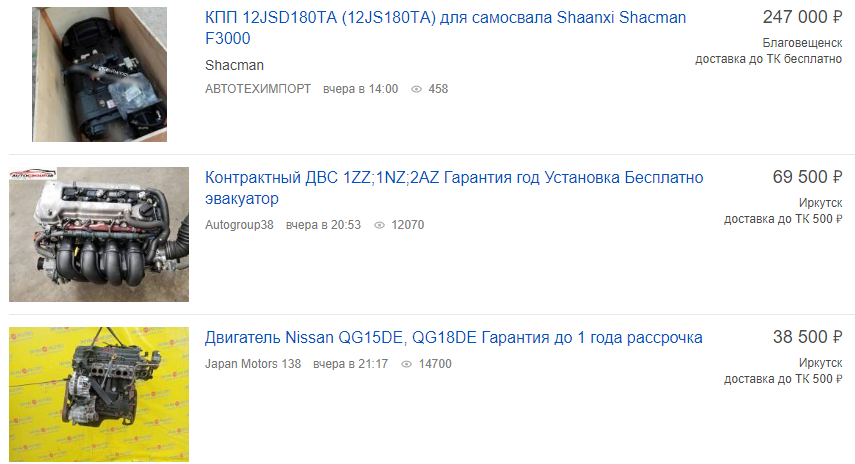 The online store offers spare parts for car tuning. If you want to improve your car and breathe new life into it then hurry up to place an order. We will help you to make a purchase and deliver all the spare parts within the agreed time frame.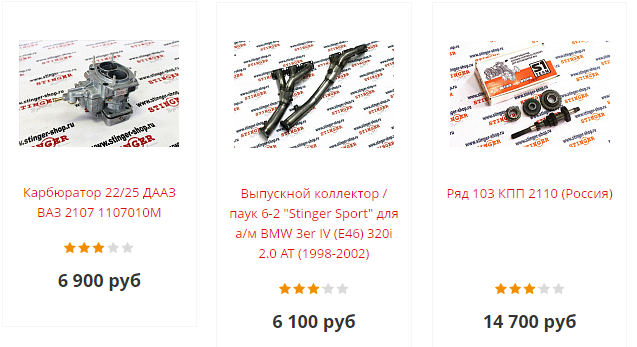 In addition to the above sites we want to add two more original online stores:
They are very similar in their specifics. They offer maintenance products, accessories, electronics, batteries, tires and wheels for purchase. We prepared a detailed review of the Exist service earlier. You can read it at this link.
Save our recommendations or add this article to your favorites and explore online platforms. Buying auto parts in Russia is profitable and easy if you have reliable and proven assistants in the form of our service en.aukciony.com .
It's easy to buy auto parts in Russia!
Choosing shopping in Russia you save profitably and get guaranteed high-quality goods! Do not delay the purchase, collect your basket on the platforms and go to our website to help with the redemption and delivery!
How to buy auto parts in Russia using our service Aukciony.com?
To place an order just use the simple instructions:
Register on the website en.aukciony.com
Send us direct links to the positions you are interested in to our mail info@aukciony.com or write the links in the online-chat or use the order form. Then our managers will check the order and confirm it.
Pay for the created orders on the website en.aukciony.com using PayPal.
Wait for your purchases to arrive at one of the en.aukciony.com warehouses.
After the parcel arrives at the warehouse and after handling (photo report, weighing, packaging), arrange delivery to your city. In order to save on shipping we advise you to accumulate goods!
Contact the online-chat on the website for help and ask the manager to create an assisted purchase order.
Important! Don't forget to pre-register on the website aukciony.com to save the order in your personal account.
Find out all about our shipping rates here or use the shipping calculator.
Ask your questions in the online chat or by email! Place an order without fees and additional costs.
We wish you happy shopping!