Sens Concept: branded sportswear from Russia
Sportswear from Russia has become incredibly popular in recent years and it is due to the growing interest in a healthy lifestyle and fitness! More and more women began to take care of their body and physical shape. One way to do this is to buy sportswear. An online women's sports clothing store is a place where you can find everything you need to do sports and improve your body.
In online stores of women's sportswear in Russia you can find everything you need for training from leggings and T-shirts to accessories. There is a wide range of products of various brands and models which allows you to choose products for any sport and any physical activity.
Sportswear should be not only functional but also stylish. Sens Concept offers fashionable and beautiful things that emphasize your fit and make a woman more attractive. It is also important to note that most sports items have technologies that improve comfort and functionality during classes.
Let's move on to the Sens Concept review!
 Tops and T-shirts
The selection of comfortable and beautiful tops for training is important for women for several reasons, of course, comfort comes first. Comfortable Sens Concept tops are made of materials that do not restrict movement and do not interfere with breathing which helps to feel easy during workouts.
Equally important is the physiological support of the breast, especially, while running or other high-intensity exercises. The dense material provides additional breast support which helps to prevent discomfort and any injuries.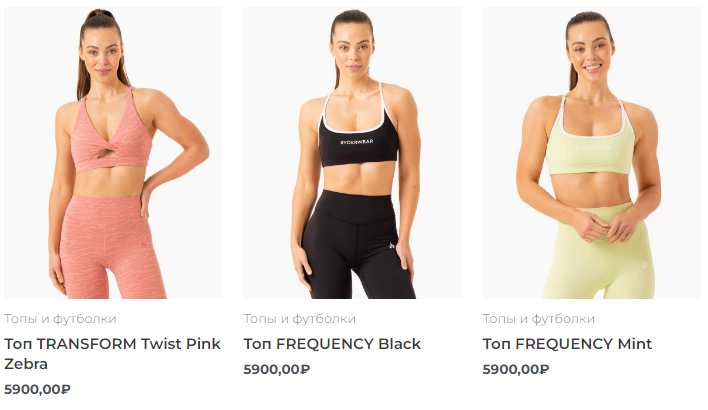 Sportswear from Russia shouldn't be boring and dull. Beautiful and bright T-shirts can increase motivation and help you feel confident even during the most difficult workouts. This can be especially important for beginners who may feel insecure about their abilities.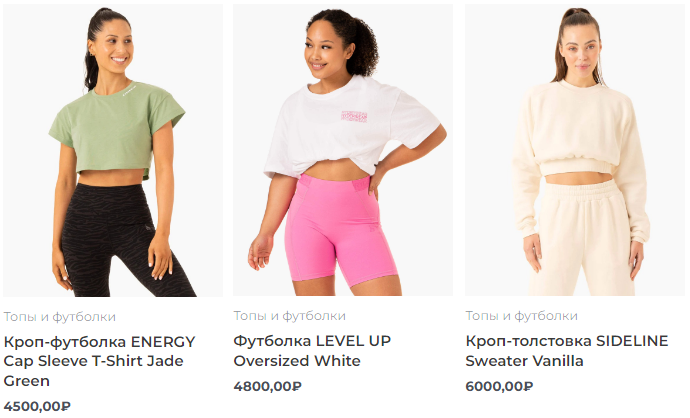 Leggings and shorts
Sports leggings should be made of special material. It consists of breathable components and does not restrict movement. At the same time, the main feature of the Sens Concept clothing manufacturing technology is the rapid absorption of moisture and fast drying.
Choose leggings that match your style. The assortment of the store allows you to choose a full-fledged sports image in uniform colors.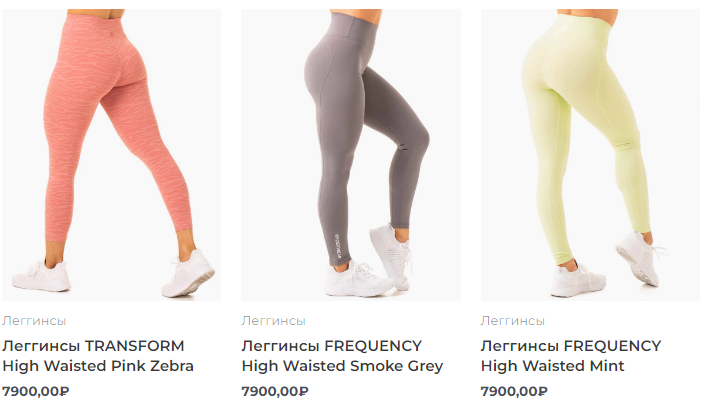 If you prefer shorter models then pay your attention to shorts. They also do not restrict movement and are suitable for all kinds of sports.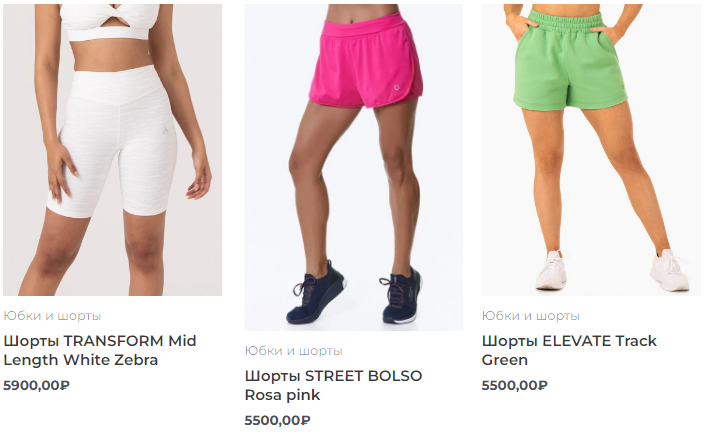 Swimsuits
To practice swimming you need to choose a comfortable swimsuit. It can be a separate set of a top and swimming trunks or maybe mono in the form of a bodysuit. Both options perfectly emphasize the fit and allow you to feel comfortable underwater and also there is a nice bonus: a large variety of discounts and promotions on the online store's website! Make profit from purchases in Russia and enjoy your new clothes.
Overalls
For lovers of bright and unique images we recommend buying a stylish jumpsuit. This type of sportswear is very comfortable, attractive and functional. Moreover, overalls perfectly emphasize your fit and will make you feel irresistible and confident.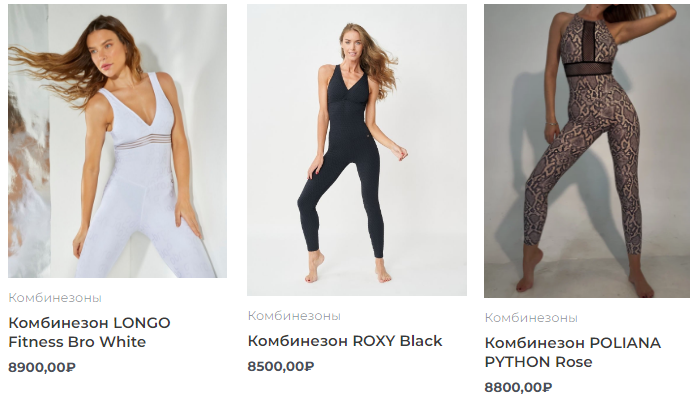 Hoodies and longsleeves
Insulated sportswear options will help you move your workouts outside, and as you know, outdoor sports are much more beneficial.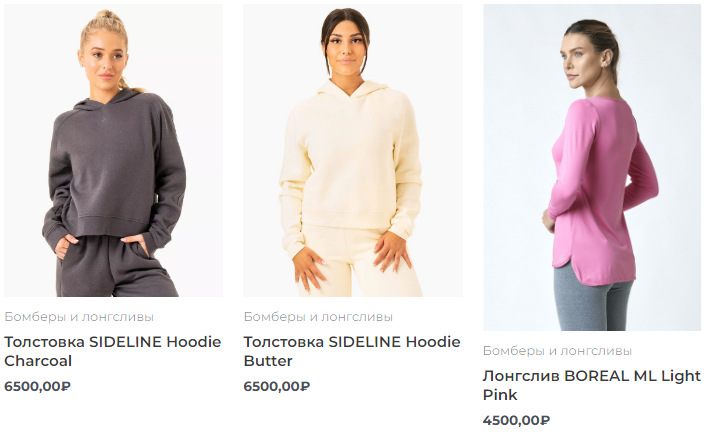 Accessories
Complement your order with useful accessories! Sportswear from Russia is easily combined with the knee pads presented on the website. Take care of the health of your joints! Don't forget to wear extra protection during high-intensity workouts.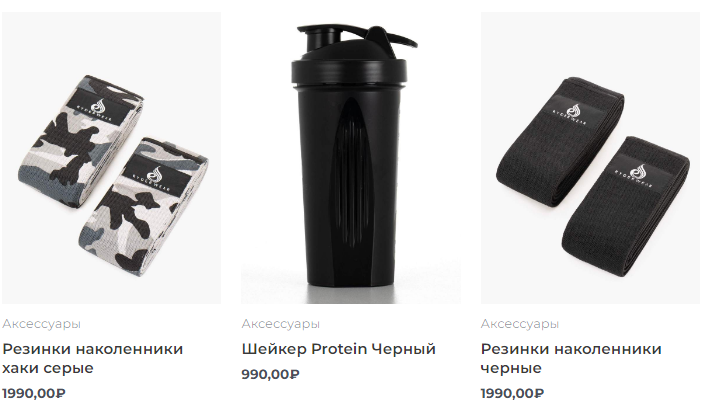 Where else can you buy sportswear?
There are a lot of interesting online stores in Russia that offer to buy sportswear for women. Our goods delivery service Aukciony.com regularly collects the best offers based on positive feedback from users and our customers. Moreover, we deliver your purchases to any country in Europe and Asia!
There is a nice selection of stores with high-quality sports clothing:
Sportswear from Russia is waiting for you!
In order to buy sports clothes in Russia just use the instructions:
Register on the website Aukciony.com
Send us direct links to the positions you are interested in to our mail info@aukciony.com or write the links in the online-chat or use the order form. Then our managers will check the order and confirm it.
Pay for the created orders on the website Aukciony.com using PayPal.
Wait for your purchases to arrive at one of the Aukciony.com warehouses.
After the parcel arrives at the warehouse and after handling (photo report, weighing, packaging), arrange delivery to your city. In order to save on shipping we advise you to accumulate goods!
Contact the online-chat on the website for help and ask the manager to create an assisted purchase order.
Important! Don't forget to pre-register on the website aukciony.com to save the order in your personal account.
Find out all about our shipping rates here or use the shipping calculator.
Ask your questions in the online chat or by email! Place an order without fees and additional costs.
We wish you happy shopping!