Where to buy sportswear in Russia?
If you are still looking for where to buy sportswear in Russia then rather move on to the review of a new brand! We regularly find the best offers on the Russian market and share them with you. Do not miss our articles and proceed to checkout.
BonaFide is a women's sportswear brand from Russia which has long gained popularity all over the world. This brand aims to create stylish, comfortable and high-quality clothes for women who are fond of sports and take care of their health.
One of the main features of BonaFide clothing is its functionality. Every detail is thought out with great care to ensure maximum comfort when doing sports. For example, BonaFide trousers have a comfortable cut that does not restrict movements and allows you to do any exercises freely. In addition, the materials used for the production of clothing are of high quality and durability.
Another feature of the brand is its recognizable style. All BonaFide clothing is made in bright colors and has expressive prints which makes it not only comfortable but also very stylish.
Let's look at several categories that are published on the store's website.
Leggings
The leggings are made of elastic material that provides a perfect fit on any figure. They have mesh inserts that provide additional ventilation and make the model even more stylish.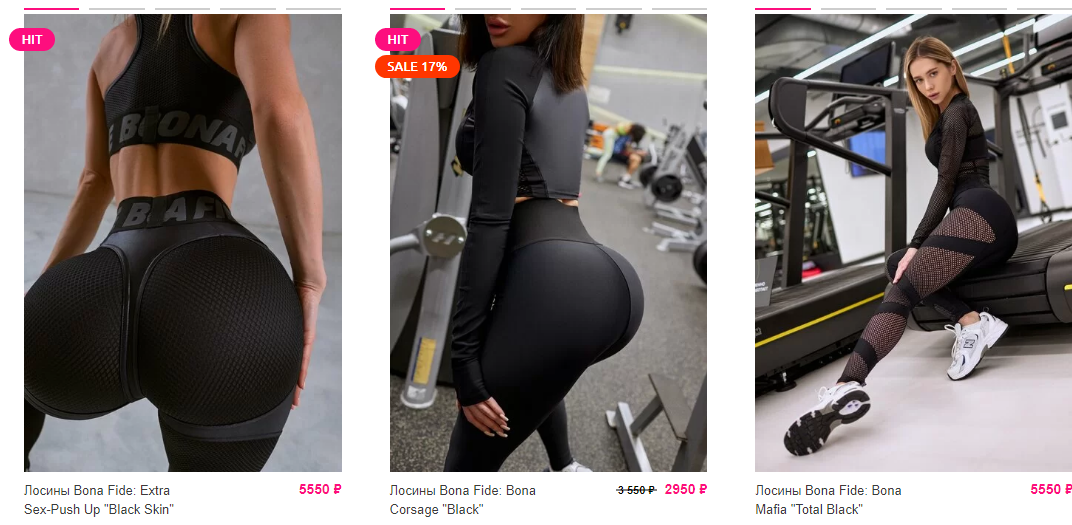 These models have become really sensational in Russia. Each star was aimed to acquire similar leggings and all this due to the unique cut and anatomical inserts that emphasize the figure.
For the lovers of bright prints there are models of a wide variety of shades on the site. Just like classic models they emphasize the curves and make the buttocks visually larger and more attractive.
Tops
The tops are made of soft material and have a comfortable cut. They are ideal for yoga or Pilates classes as they do not constrain movements and provide maximum comfort. Moreover, some tops do not look like the usual sportswear at all and are quite suitable for wearing in everyday life or even on holidays!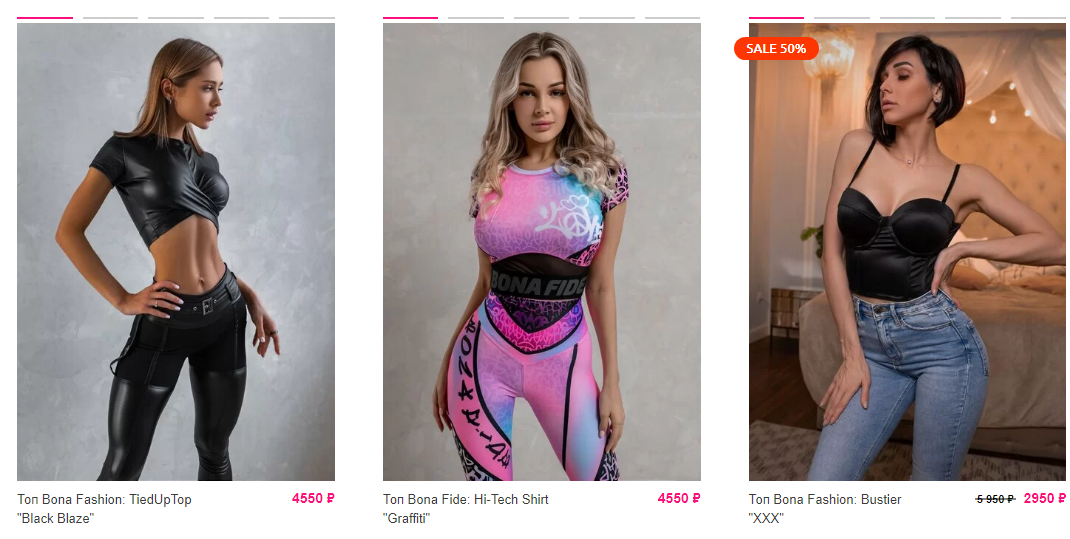 But do not think that due of its stylish view such clothes may be inappropriate in sports. All models are designed in such a way as to provide the necessary breast support and engage in any physical activity.
Swimsuits
Another interesting category is swimwear. The models fit perfectly to the body and do not restrict movement during swimming. Also, all the seams are made so neatly that they do not cause even the slightest discomfort.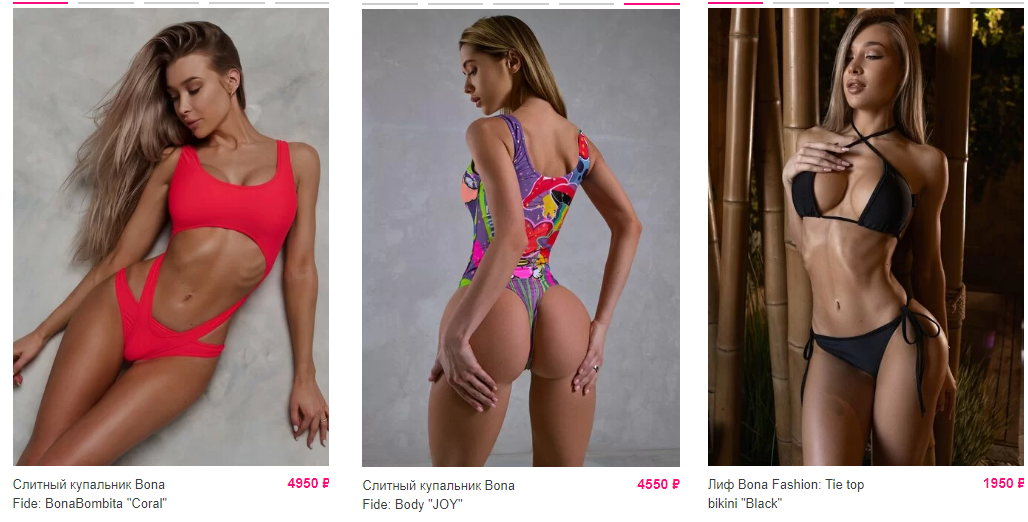 Be the brightest on the beach or in the pool! Emphasize your beauty with professional sportswear. Moreover, it is much easier to buy sportswear in Russia than you think. Our service will help you to place an order and deliver to your city.
Sport suits
If you want to buy a ready-made set of clothes for sports right away then pay attention to the suits. Each detail is combined with another and creates a unique style.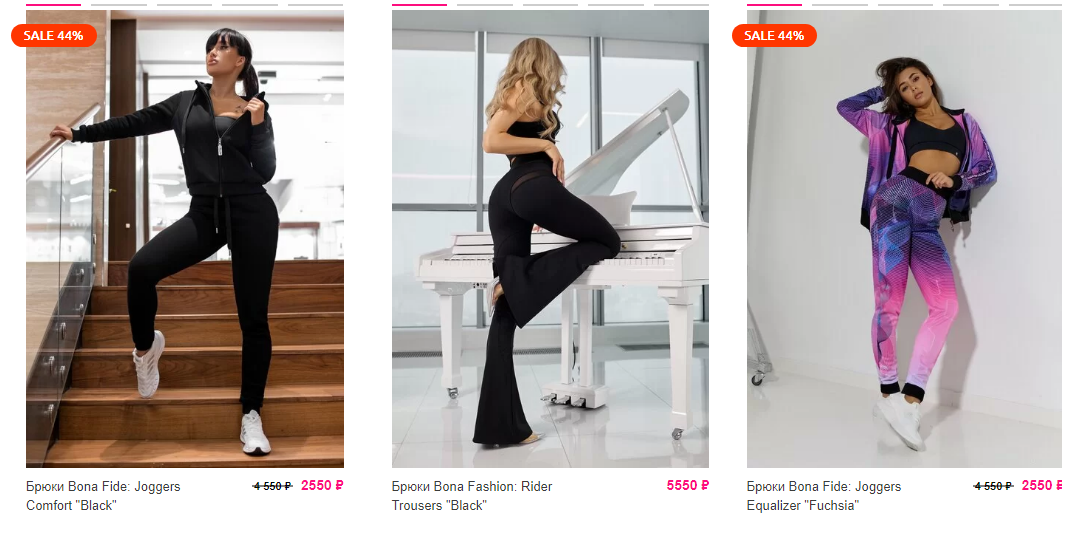 Rashguards and jackets
If you want your hands to be closed during training and at the same time your clothes do not restrict movement then consider buying rashguards. Such an attribute in a sports wardrobe will allow you to stand out favorably from the rest and feel comfortable and attractive.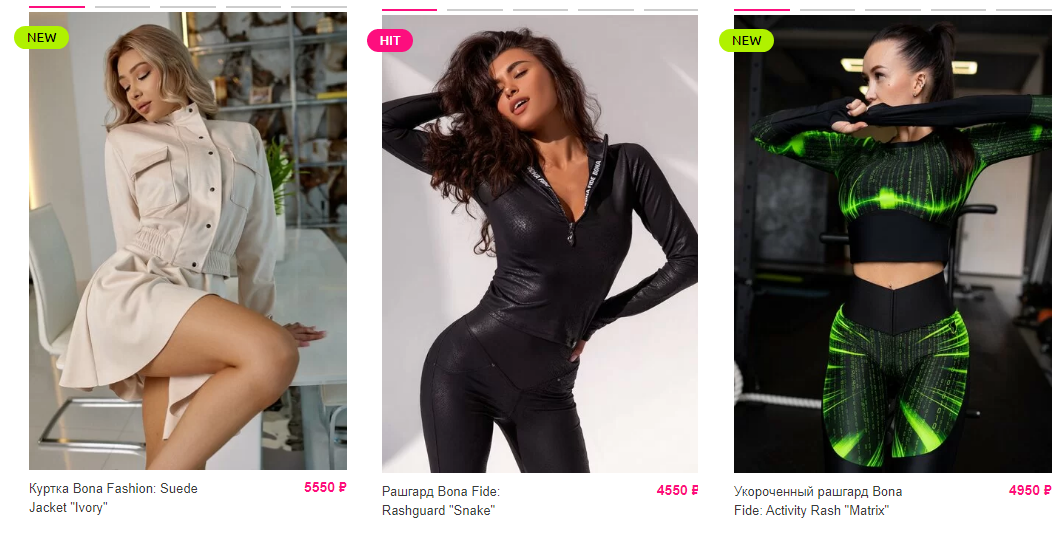 Moreover, BonaFide has clothes for active outdoor sports. For example, jackets. They are made in a shortened style, which allows you to run or cycle without worrying about the cold.
Accessories
Fill your order with stylish accessories such as a set of socks. The breathable material will protect your feet from overheating and allow you to stay in tight sneakers for a long time. Also there are sports attributes such as weighting elastic bands that will improve the results of your workouts.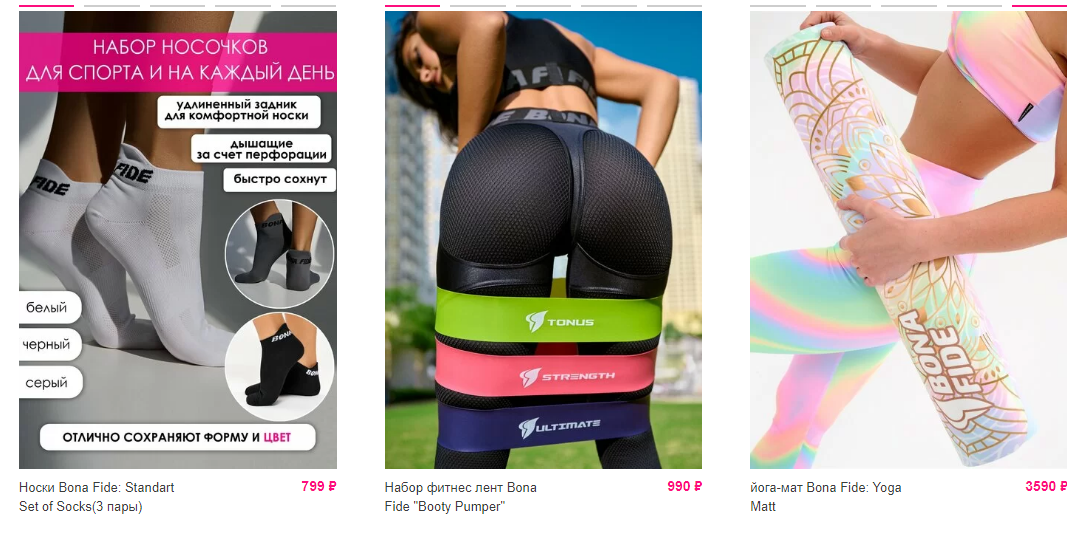 When ordering BonaFide products to Europe you can be sure that you will receive high-quality and stylish sportswear that will serve you faithfully for a long time. The BonaFide brand has many positive reviews and is one of the leaders in the sportswear market in Russia and abroad.
In general, when ordering BonaFide sportswear from Russia to Europe, you get access to high-quality, comfortable and stylish sportswear that will not only allow you to feel confident and comfortable during training but will also be an excellent addition to your wardrobe.
How to buy sportswear in Russia?
Register on the website en.aukciony.com
Click the Pay button in the order form and choose PayPal payment system for payment
The manager will buy the goods and send them to a warehouse in Russia
After warehousing (fotoreport, weight and dimentions of parcel), you can arrange and pay delivery to your country
or:
Send us direct links to the positions you are interested in to our mail info@aukciony.com or send links to products to the manager in the online chat . Then our managers will check the order and confirm it. Pay for the created orders on the website en.aukciony.com using PayPal. Wait for your purchases to arrive at one of the en.aukciony.com warehouses. After the parcel arrives at the warehouse and after handling (photo report, weighing, packaging), arrange delivery to your city. In order to save on shipping we advise you to accumulate goods!
You can clarify all questions about the product in the telegram by writing directly to the seller @bonafidesales. Request an invoice from for payment and send it to us info@aukciony.com.
Delivery cost:
Delivery in Russia (from the seller to our warehouse in Russia)
– 0-3 kg 15 euro
– 3-5 kg 20 euro
– 5-10 kg 30 euro
– 10-30 kg 40 euro
Pick up parcel from post office or pickup point
– 0-5 kg 15 euro
– 5-10 kg 20 euro
– 10-20 kg 25 euro
– 20-30 kg 35 euro
– >30 kg 50 euro
Additional export clearance (in the absence of an invoice for the goods), for the sent parcel:
– 1-5 items 15 euro
– >5 items 30 euro
See shipping rates here or use the shipping calculator.
And also ask your question in the online chat to our manager or by email: info@aukciony.com. For an urgent request, you can send all details of goods using WhatsApp +385993298198
Important! Don't forget to pre-register on the website aukciony.com to save the order in your personal account.
We wish you happy shopping!