How to buy and ship clothes from Russia? INSPIRE-SHOP
Today we would like to draw your attention to a modern and fashionable online store of women's clothing and accessories – INSPIRE. There you can buy and ship clothes from Russia. An abundance of colors, high quality of its own manufacture, Russian production, modern materials and fabrics, stylish images and comfortable styles – that's what you can find in this store and it will become even easier for you to order from Russia with our delivery service Aukciony.com!
In the current difficult time brands of Russian manufacturers are becoming increasingly popular. If you are still in constant search of new looks and styles, then you should definitely look at the INSPIRE store website.
The name of this online store already speaks for itself. Here you will find basic everyday things of stylish cut and excellent quality. Moreover, this brand has its own production and environmental policy! It is one of the few companies that actively reduces waste, recycles products and reduces plastic consumption.
Now let's move on to a more detailed overview of the categories specially selected for you.
In this section you can choose the most stylish models of dresses. The products themselves are made of the most modern fabric for any choice and color. For example, light chiffon floor-length dresses will look great on your figure and are suitable for walking during a warm summer evening, however, shortened dresses made of denser and heavier fabric in a classic style are suitable for attending social events.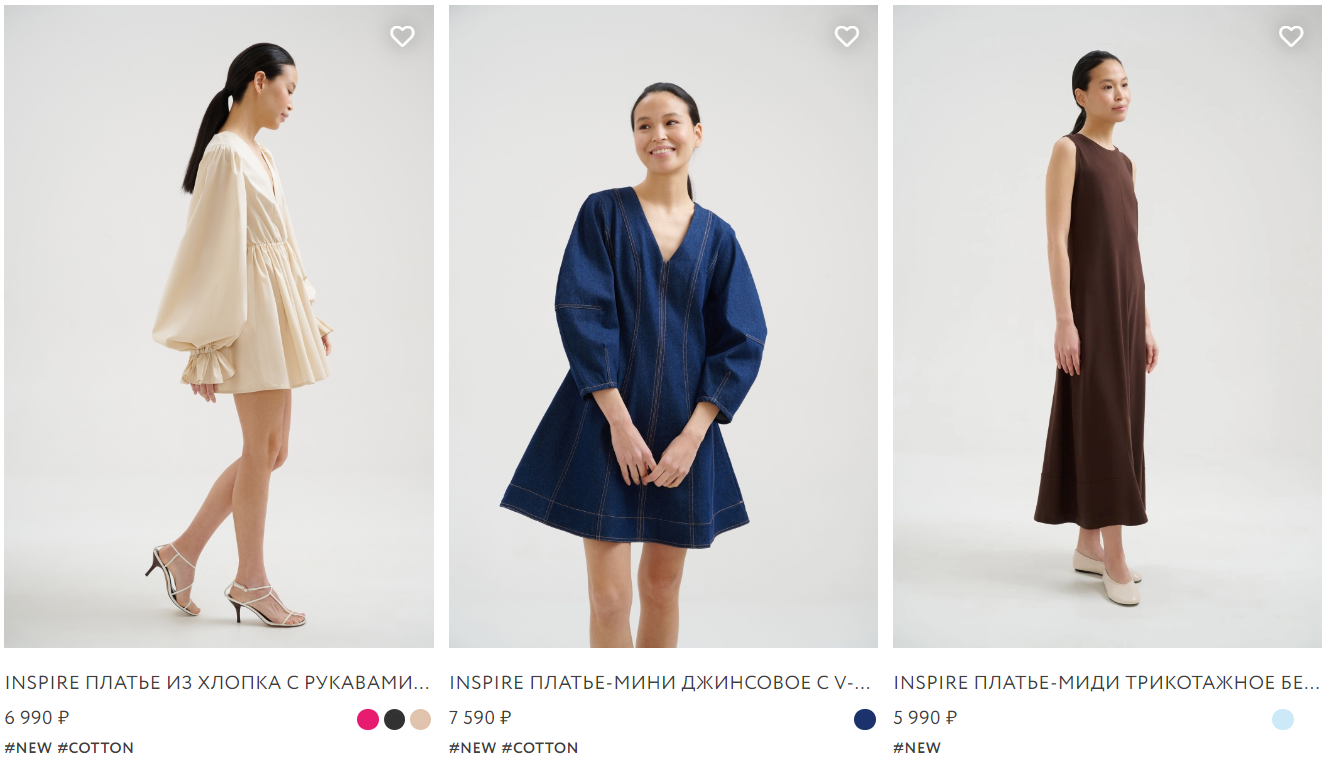 And for the simplicity of choosing a color, size, price range, or even a full style you can use filters at the beginning of each product category.
One of the most important and basic items of a stylish women's wardrobe is an oversize jacket. This is a MUST HAVE for every fashionista nowadays. In the INSPIRE GIRLS store, you will definitely find a jacket to your taste that will suit your existing wardrobe items and your style as a whole as much as possible.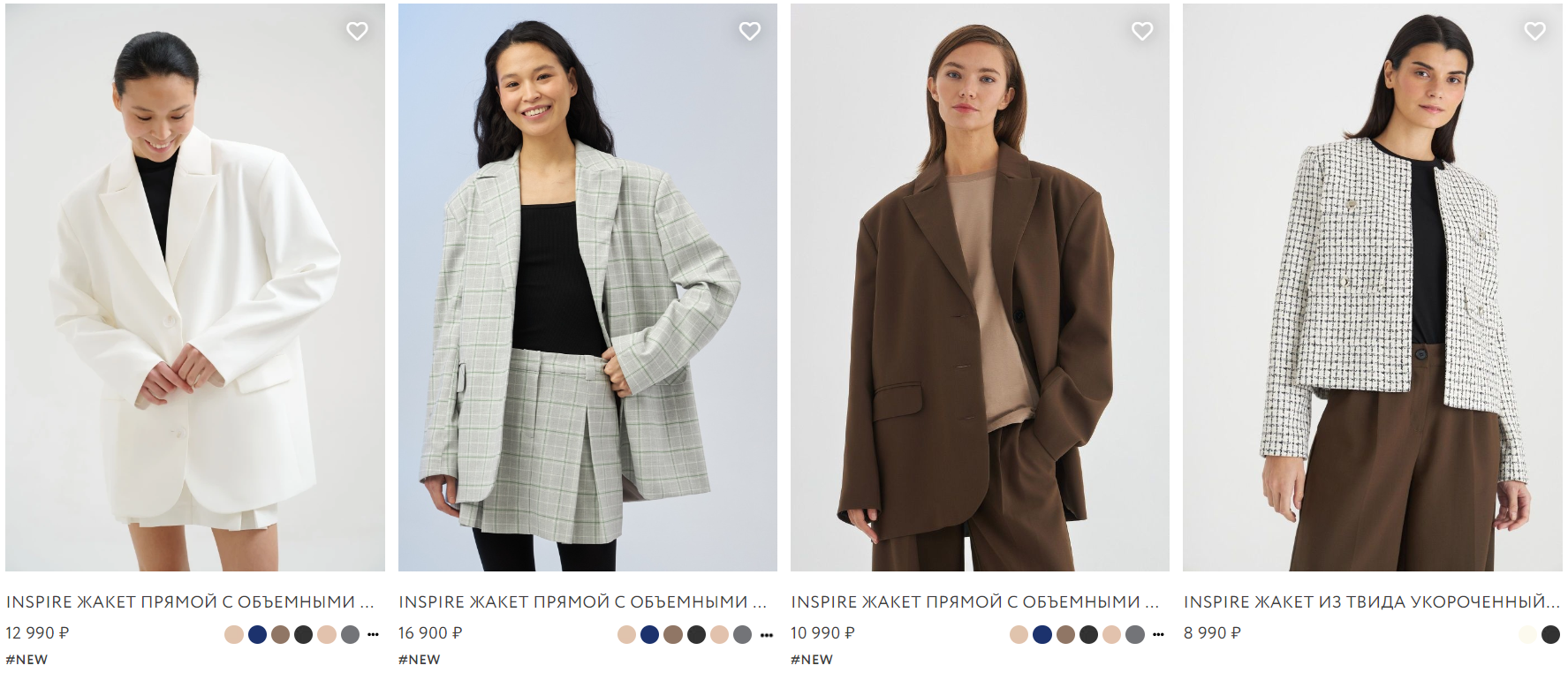 However, in this section there are not only oversize blazers and jackets but also fitted classic jackets that will perfectly suit any business lady.
No fashionable jacket can do without well-matched trousers. In this section you can find not only classic office trousers but also wide palazzo trousers, slacks and even cargo trousers of various colors and from different fabrics which have gained huge popularity among young people in 2023.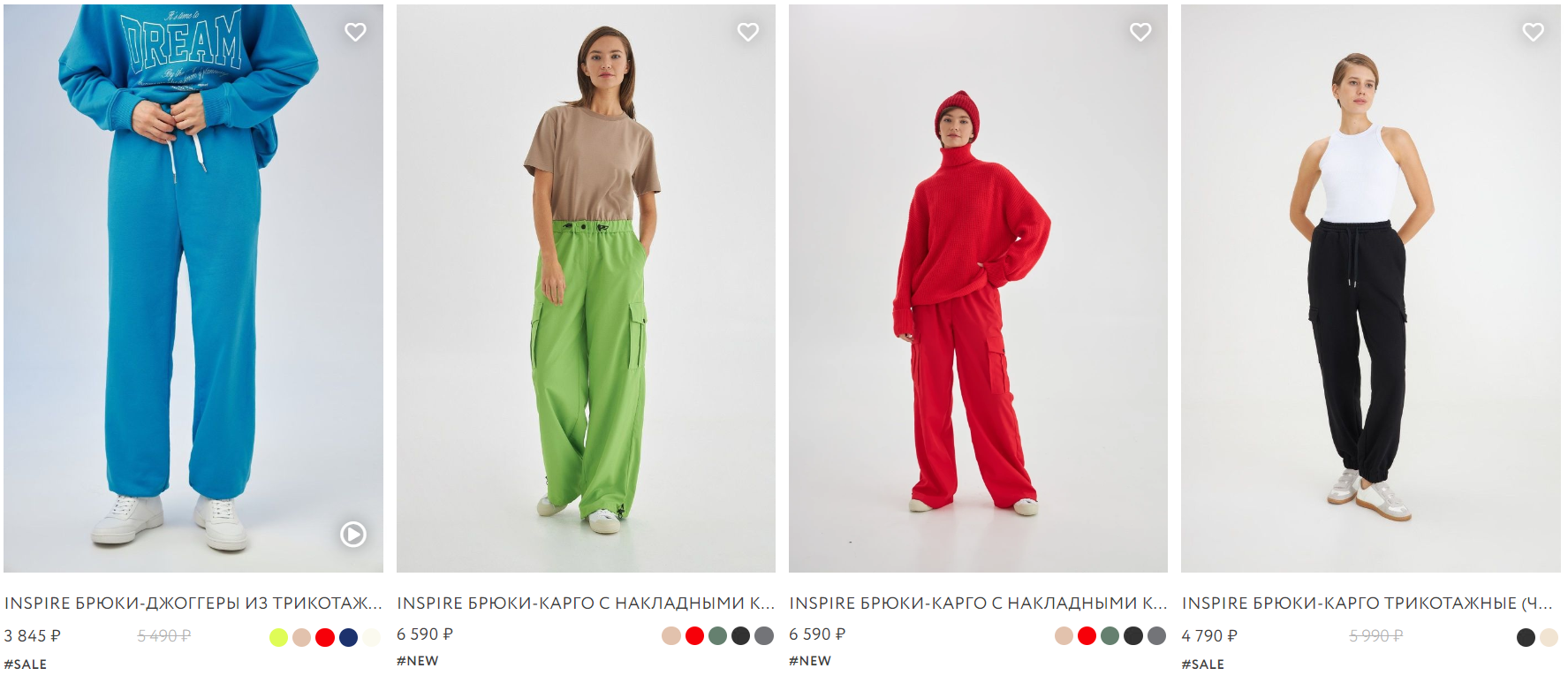 Also, here you can find jogger pants and a bunch of variations of wide trousers made of eco-leather which are also very popular now.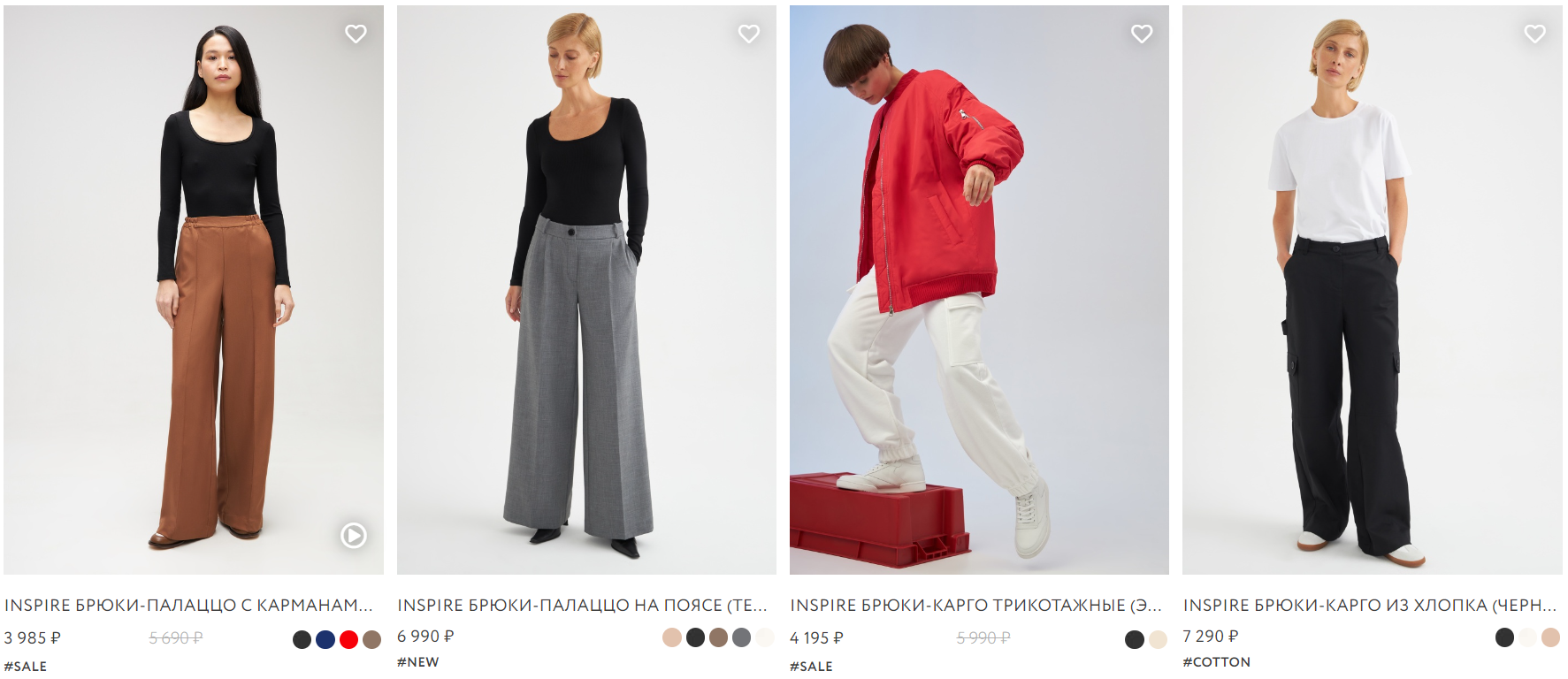 In this category you will find additional elements for your everyday look, for example, bags, scarves, hats, socks and jewelry. Minimalism and unusual stylistic designs are in fashion now which is why the new collection of bags is made in one tone and without colorful drawings. Such products will suit any fashionista with a restrained taste.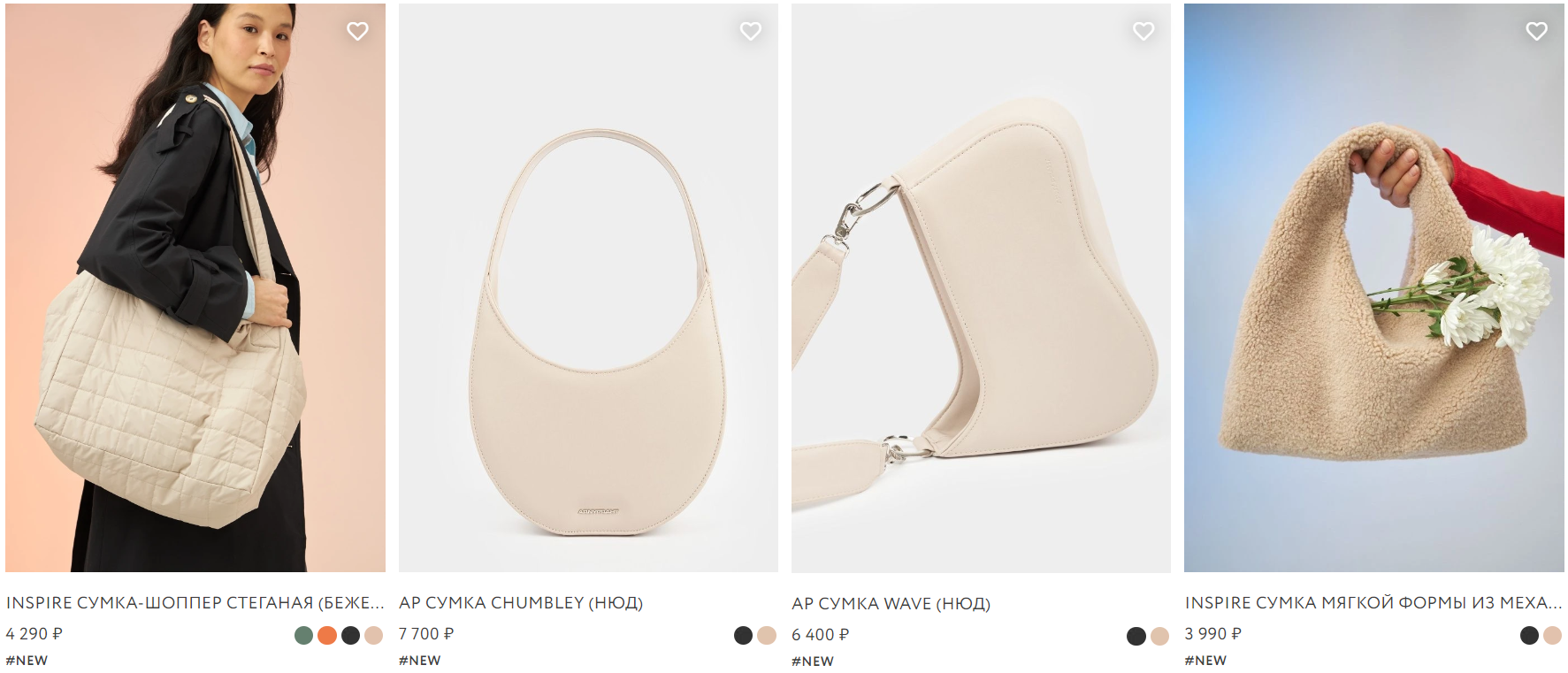 Furthermore, a good addition to any look will be jewelry in the form of rings, necklaces or earrings made in the same minimalistic neat design.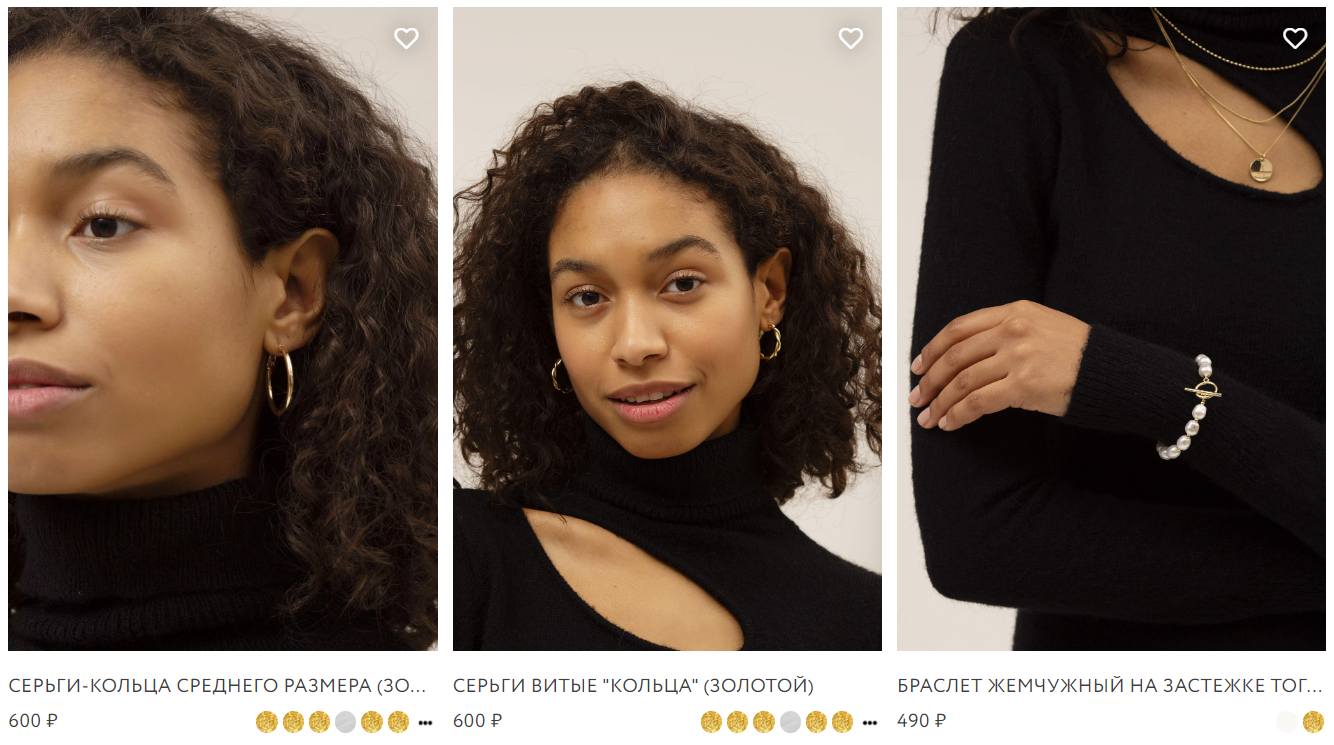 Not so many sites with women's clothing and accessories can offer to choose a ready-made look created by professional stylists. Here you can find a lot of ready-made looks and order them faster and safer with our service Aukciony.com.
Such looks already include several items of clothing, for example, a shirt, jacket, jeans, bag and rings, which are harmoniously combined with each other and are available for order on the website.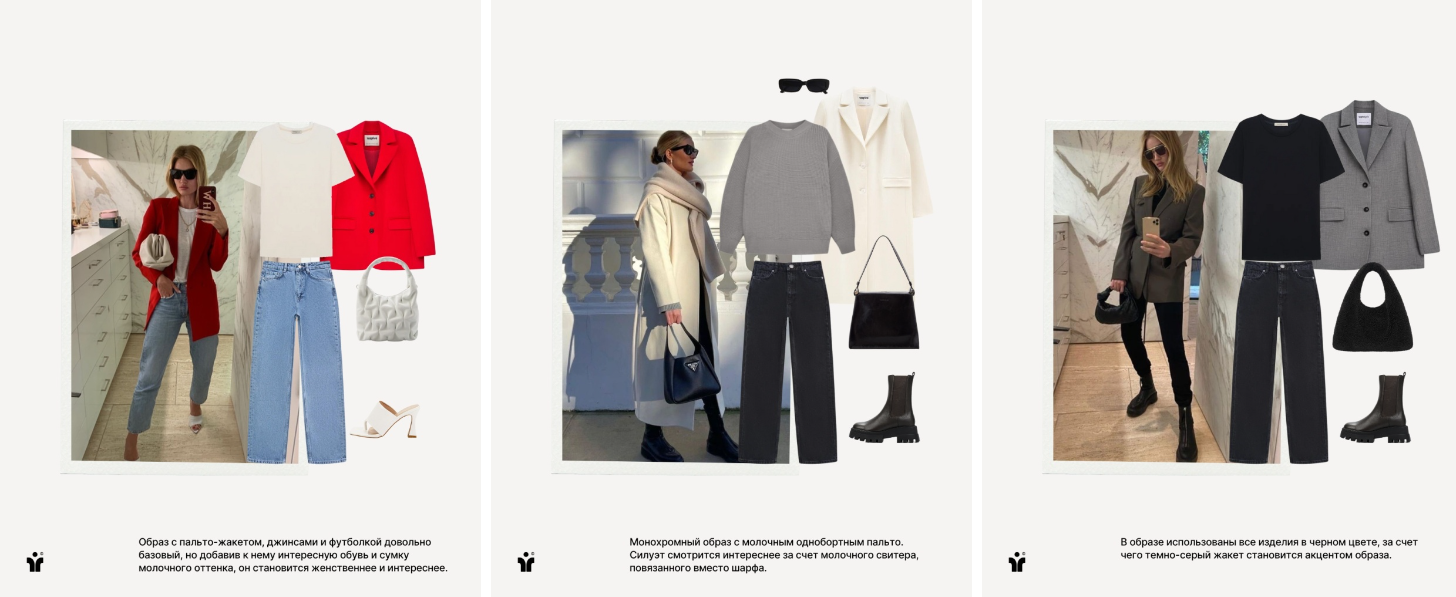 Also, here you can find tips from professionals on how to combine certain things.
In this section you can choose the most frequently purchased items, that is, what is most popular in fashion right now which will definitely be available and 100% won't spoil your wardrobe .
Moreover, there are items from all categories, starting with classic coats and raincoats, ending with accessories.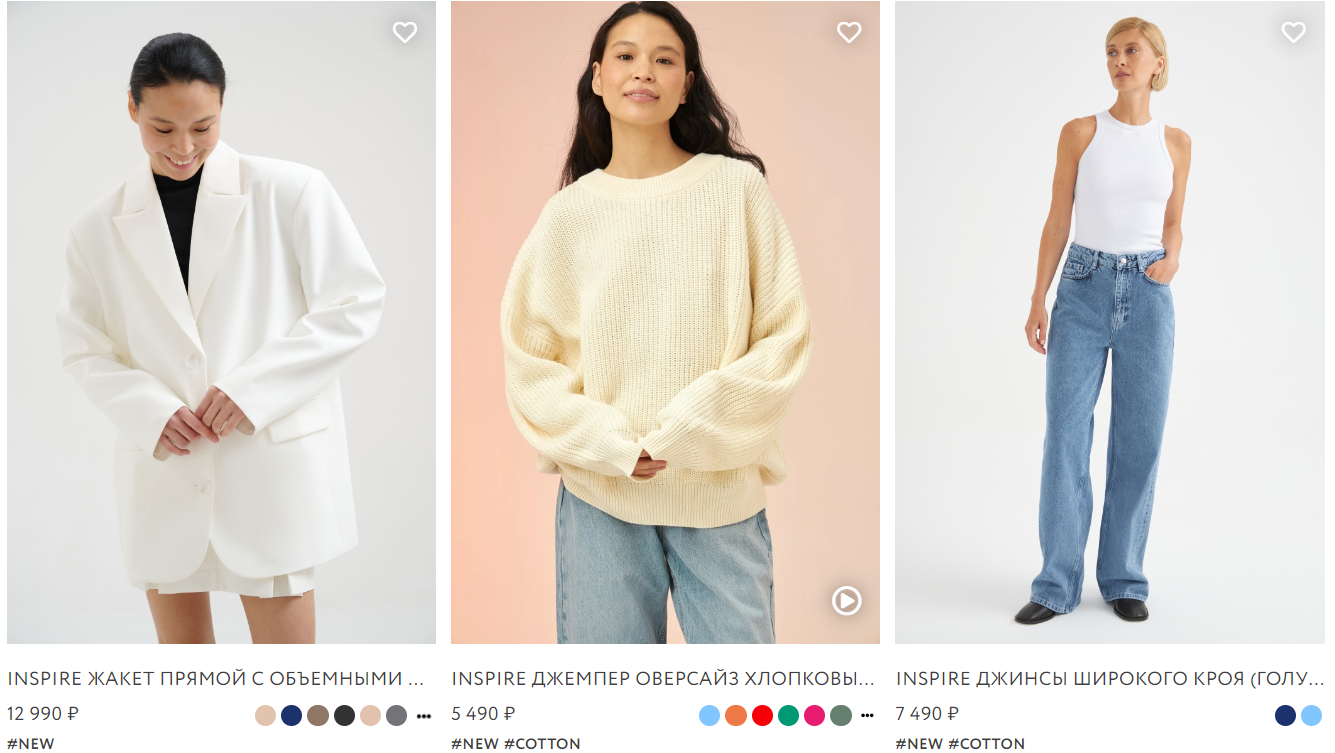 When you get to the site, this PROMO will catch your eye, because it's spring, which means that it's time for spring sales in Russian online stores. Here you can find the most relevant things for spring weather: light sweaters, cropped coats, turtlenecks, skirts, shirts, jackets and much more in light shades and spring tones, and most importantly with big discounts!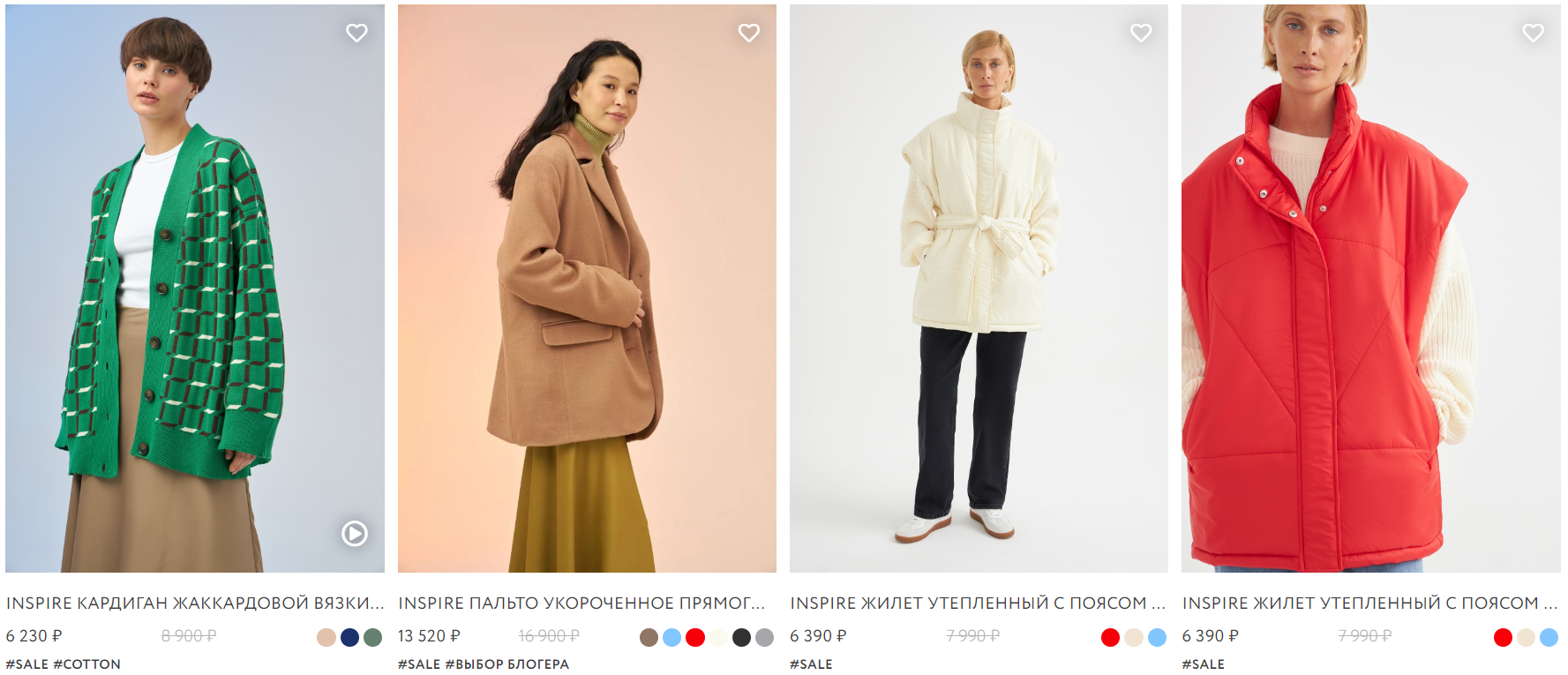 By ordering INSPIRE clothing and accessories from Russia you are guaranteed to receive high-quality and stylish goods of this brand's own production at affordable prices. Moreover, these clothes and accessories will be practical and comfortable to wear, will make you feel even more confident thanks to the latest fashion trends and most importantly will serve you for a long time.
This brand is highly appreciated among Russian buyers and has a huge number of positive reviews. You can learn more about all categories of INSPIRE GIRLS on the official website of the manufacturer.
Give yourself the opportunity to create an inspiring image with INSPIRE!
How to buy and ship clothes from Russia from INSPIRE?
In order to buy casual clothes in Russia just use the instructions:
Sign up on the website Aukciony.com
Create an "Assisted purchase" order using the form or send links to the mail info@aukciony.com .
Pay for the created orders on the website Aukciony.com using PayPal.
Wait for your purchases to arrive at one of the warehouses Aukciony.com .
After the parcel arrives at the warehouse and handling (photo report, weighing, packaging), arrange delivery to your city.
We recommend sending several items in a package at once.
Find out all about our shipping rates here or use the shipping calculator.
We wish you happy shopping!